The Pomodoro Technique 2.
Material and Method
The process underlying the Pomodoro Technique consists of five stages:
What               When                                 Why
Planning          at the start of the day     to decide on the day's activities
Tracking         throughout the day         to gather raw data on the effort expended and other metrics of interest
Recording       at the end of the day       to compile an archive of daily observations
Processing      at the end of the day       to transform raw data into information
Visualizing       at the end of the day  to present the information in a format that facilitates understanding and clarifies paths to improvement
This basic procedure lasts one day, but it could also take less time. In such a case, the five stages would take place more frequently.
To implement the Pomodoro Technique, all you need is the following: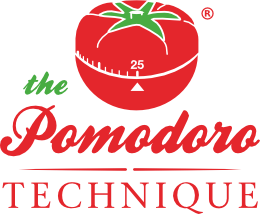 A Pomodoro: a kitchen timer
A To Do Today Sheet, filled in at the start of each day with the following:
– A heading with place, date, and author.
– A list of the things to do during the day, in order of priority.
– A section labelled Unplanned & Urgent Activities where any unexpected tasks that have to be dealt with should be listed as they come up. These activities could potentially modify the day's plan.
An Activity Inventory Sheet, consisting of:
– A heading with the name of the author.
A number of lines where various activities are noted down as they come up. At the end of the day, the ones that have been completed are checked off.
A Records Sheet: this is the set of raw data needed to produce pertinent reports and graphics. Depending on the objectives in question, this contains different sets of boxes. Normally, this sheet would include the date, description, and the number of Pomodoros worth of effort needed to accomplish a task. This sheet is updated at least once a day, usually at the end of the day.
In the simple examples shown in this book, the Recording, Processing, and Visualizing stages are done directly on the Records Sheet.
Due to typographical constraints, the sheets used in this book only show the entries relating to the topic in question. Simple models of the sheets described here are provided at the end of the book and can be used to practice the Technique.
An evolutionary approach to the use of the Pomodoro Technique is provided in the following chapters, oriented toward a progressive experimentation of the Technique itself. Clearly, the incremental nature of the Technique means the objectives should be achieved in the order they are given here."
Estratto di: Cirillo, Francesco. "The Pomodoro Technique." FC Garage, 2013-05-10. iBooks.